Website Redesign / Rebranding / Presentation Material
WEBSITE RE-DESIGN
The Nantais Group was looking to update their website with a bolder look that graphically represented their vast amounts of information. They also were looking for an intuitive site design that allowed clients and candidates searching their site an easy way to get to relevant sections of the business's information.
JCM Media Group compiled all the data and began organizing it into sections that best went together and began generating new graphics to depict it. To keep the site clean and responsive they focused on a minimalist design where data lead the conversation. The site also gained responsive capabilites in the process to increase SEO and widen the access to the mobile audience.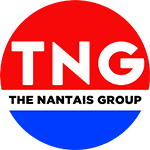 Branding
The Nantais Group was looking for a new logo to accompany their new streamlined website design. The design had to retain the new website color scheme and be simple enough to work with its brightly colored design.