WHAT IS jcmCOMMERCE?
"Any Platform. ROI Optimized."
jcmCOMMERCE is a proprietary collection of digital gizmos and processes, integrated with all major eCommerce environments, to build and maintain online sales success. JCM provides both turnkey and custom-developed solutions on top of industry leading software to help your brand make the digital transition. Between WooCommerce for WordPress, Shopify, or Magento, no matter which platform you choose for your online store, we're here to help grow your online sales.

WHAT ARE THESE GIZMOS AND PROCESSES?
Machine Learning & AI, Fed by Custom KPIs. PCI Compliance. ERP, Accounting, CRM & POS Integrations. Custom Middleware Software Solutions. Analytics. Digital Advertising. Conversion Rate Optimization. SEO. Promotions & Incentives. Abandoned Cart Reminders. Email Marketing. Gift Card Systems…
LONG STORY SHORT, WE HAVE YOU COVERED.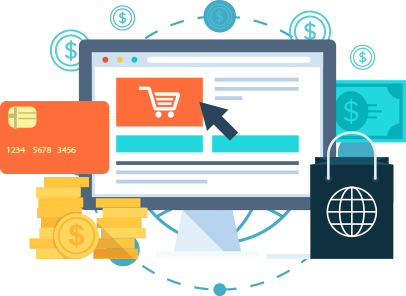 FROM START TO CART
Processing online transactions and moving a portion of your business' revenue to an online model has become an overnight requirement for many more businesses than just retail. Lately, we've been helping professional services businesses, educational institutions, coaches & counselors, as well as traditional retail stores, move more of their revenue online. Not only have we helped move payment systems online, but we've also been consulting on entire business overhauls to determine the best mode of transitioning each company's key advantages into an online business model, then building out the online infrastructure, tying it to an online payment system, and marketing it to current and target customers.
QUICK WINS ASAP + LONGEVITY
To achieve the fastest possible results, we use a digital marketing process with a mixture of intuition based on past performance combined with data collection, integrated cross-platform analysis, and rapid machine learning to hone in on the most sales-motivated target audience. Once we solve the equation for quick-burn sales, we start turning our attention to customer retention and longevity. We take our position as your eCommerce partner incredibly seriously, and we will work both smarter and harder to ensure your continued success.
JCM just did it again. I know it sounds like I am just raving about these guys but our results have, once again, been amazing. As you can tell, I'm drinking the JCM kool-aid. These guys are the real deal.
Every commitment was met on time and the professionalism was always at the highest levels. There are more projects coming your way from The Ann Arbor Marriott, and I look forward to continuing our relationship.
Everything turned out awesome. We can't wait to do another project with you guys. The feedback has been incredible.
request a jcmCOMMERCE quote or consultation
Let's see what we can sell together!