CONTENT MANAGEMENT SYSTEMS
Learn a little bit more about how and why we implement the solutions that we have found garner the strongest results.
WHICH CONTENT MANAGEMENT SYSTEM IS RIGHT FOR ME?
In terms of outside systems, we would recommend an open source solution, and we are familiar with WordPress, Joomla, Drupal, Concrete 5 and others. However, after having clients express frustrations with the interfaces and functionality limitations with most of these systems, we spent 6 months developing our own CMS called the "JCM Site Editor."
Our system is intuitive, easy to understand, and prevents the ability for a regular user to break the site design. One of the main issues with most CMS interfaces is that the lack of intuitiveness in the editing process makes it easy to "break" a site, either in terms of design, function or both. Our "JCM Site Editor" solves many of these issues, and clients have been very pleased with its ease of use. And whereas most companies that offer a proprietary CMS charge a monthly fee for its use, we provide ours complementary for every website we build that wants to use it.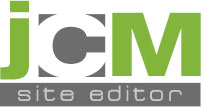 Our CMS is a living solution, with edit-ability that can be added to any feature of the website to allow for easy updates. Examples would include:
Editing photo slideshows and banner content, with an easy crop tool that automatically resizes the photo to the proper size for either the album or banner
News feeds
Editing of any content section, changing links, changing photos, etc… with a content editor that anyone familiar with MS Word will be comfortable with
SEO is automated (to a point) by allowing for easy editing of page titles, descriptions, metatags, and header and content styles. What we do not, and would not automate would be the other aspect to our SEO strategy, which is link building. Trying to automate that process is a sure-fire way to get flagged by Google and dropped out of their rankings.
Web forms include contact forms, request quote submissions, live chat, and more
Ecommerce solutions are easily managed by our clients whether we use a custom solution or integrate with existing software.
As far as blogging, we can add blog functionality into the site itself, but we have found that for SEO purposes, it's best to use a blog system (in this case we do prefer WordPress – it's great as a blog, just garbage as a CMS). Either way the blog will be tied to your website, and fully editable by the users.